VSChristmas parties don't have to mean pigs in blankets and chopped pies. We like to revisit classics, like pot prawns, which we've given a Moorish and Christmas twist by infusing the hazelnut butter with spices. This needs to be prepared well in advance, to give the butter time to set, so it's super easy for a party: just spread it on warm toast and serve. The dip, meanwhile, is wonderful for any festive occasion: sweetcorn combined with cilantro, sun-dried tomatoes, garlic, and creamy labneh (strained yogurt), all scooped up with pitta or flatbread. .
Labneh with sweet corn, coriander and paprika (top photo)
Don't underestimate canned sweet corn. It is also delicious as an accompaniment to pork or chicken.
Preparation 10 minutes
To cook 10 minutes
serves 4

75g of butter
3 spring onionstrimmed and finely chopped
1 clove of garlicpeeled and finely chopped
1 ttablespoon coarsely ground coriander seeds
4 sun-dried tomatoesfinely chopped (we use the dehydrated ones and soak them in just boiled water until soft)
5 tonstablespoons chopped cilantro
½ level tsp strong paprika
250 g canned sweet corn
150g cream cheese
500g Greek yogurttense
2-4 flat breads or pitaswarmed up
Melt the butter in a saucepan over medium heat and cook, stirring, for three to five minutes, until it begins to caramelize (when the white whey chunks turn golden). Add the spring onions, garlic and coriander seeds and cook, stirring, for three more minutes, until soft and sweet.
Stir in the sun-dried tomatoes, fresh cilantro and paprika, fry for another minute, then add the sweet corn and season. Puree a quarter of the mixture, add a little water to loosen it if it's very thick, then stir in the rest of the corn.
To make the labneh, combine cream cheese and yogurt, season with salt to taste and spread on a large plate. Pour hot sweetcorn mixture over labneh and serve with warm flatbreads or pitas.
Brown prawns and spicy brown butter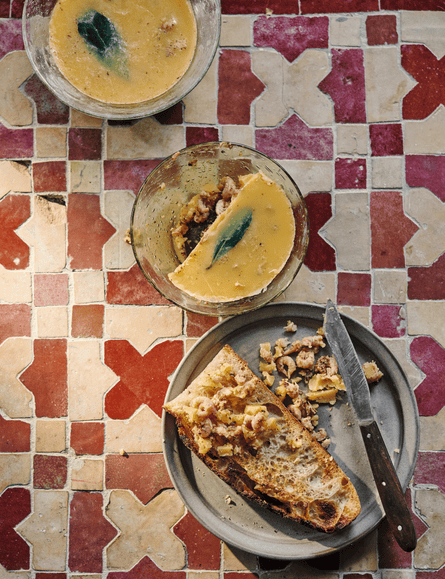 We all know and love pot prawns, but the addition of spices – nutmeg, black pepper, bay leaf and fennel seeds – to the caramelized brown butter makes this classic even more delicious.
Preparation 5 minutes
To cook 15 minutes
Adjust 2 hours +
serves 4
150g unsalted butter
2 bay leaves (fresh, ideally)
1 whole nutmegfinely grated
A pinch of cayenne or strong paprika
½ cupground fennel seeds sp
¼ cupground black pepper
A squeeze of lemon juice
200 g shelled gray shrimp
Toast or crusty breadto serve
In a small saucepan, melt the butter with the bay leaves over low heat – the butter will separate, but continue cooking until the milky white chunks of whey begin to caramelize and brown. Add the nutmeg, cayenne pepper, fennel seeds and pepper and cook for another minute or so, stirring occasionally to prevent anything from sticking to the bottom of the pan.
Squeeze a little lemon juice over the prawns, then stir them into the hot butter. Season with salt, cook for 30 seconds, then hollow out the prawns with a slotted spoon and transfer them to four small ramekins (or a larger dish). Press them with the back of the spoon, then pour them over the hot butter and put them in the fridge for a few hours, until they are set. This can be done well in advance.
Serve with toast or rusks.
Extract from Moro Easy by Sam and Sam Clark, published by Ebury at £30. To order a copy for £26.10 go to guardianbookshop.com
source : https://folobooks.com/